March 5, 2022
Posted by:

Dan Trudeau

Category:

Hiring Advice
4 Keys To Finding The Right Employee
The United States' talent shortage is real and becoming more acute. Employers are reporting difficulty recruiting the right talent as the quality of applicants continues to drop.
You have to be pragmatic in this environment to get the people you need. Too often, recruiting efforts focus on skill matching alone, when it's but one of many factors determining a professional's success. Your talent acquisition team cannot afford to exclude candidates who don't check every skill box. It's a sure way to miss out on great potential employees with qualities that more than compensate for their technical shortcomings.
Before posting the position, contacting recruitment agencies, or pushing the position on social media, you need to identify what qualities are vital to getting the job done. While a skill list will be part of this, it won't be the recruiting team's sole focus.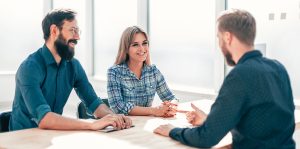 To create a job profile, you need to find out:
1. What does the new hire have to accomplish in their first 6-12 months? If you know what needs to be achieved, you can look for similar accomplishments in their past work. This includes learning new skills.
2. What roadblocks are holding your team back? This could be anything from poor communication with clients, to having less resources than competitors, or anything else that's standing between them and success. You want to find candidates who have overcome something similar before.
3. What critical skills is the current team missing? This tells you what your real needs are, so you can focus on them over "nice-to-have" qualifications.
4. What are the personal qualities of your best performers? This will make the difference between an okay and great hire. Someone with a great attitude, in tune with your company culture, can add strengths you hadn't even considered for the role.
Make sure to cover these questions with a variety of team members. People "in the trenches" often recognize issues invisible to management. They can also help get them up to speed at a quick pace once they join.
Find Your Next Job Here!
Once you have an idea of your target candidate, coordinate with your staffing partners about the best way to find these qualities during the screening process. For anyone sent your way, they should highlight:
·  Their specific accomplishments that line up with your team goals.
·  Their track record of learning new skills on a quick schedule.
·  How they've performed in similar team dynamics.
A recent Bureau of Labor Statistics report found more than 700,000 unfilled IT jobs in the United States. With low unemployment rates across almost all categories, a practical recruiting strategy is more important than ever. You may not get everything you want, but that doesn't mean you can't get what you need.
PRA USA is very tuned in to the current trends and realities of the modern engineering job market. For about 30 years, we've been developing a customized network of the top engineering talent throughout the country, with specific expertise in Electronics, Embedded, and control technologies. Contact us to discuss your recruiting headaches and how we can help solve them.  We wish you much success!